I've mentioned in a few of my blog posts about the cross country trek I have to make from my house to my job everyday and how during this journey I listen to podcasts. Therefore, I thought it'd be nice to share some of the podcasts I listen to regularly in the mornings.
Each of these stations have helped me learn alot about Christianity and grow as a Christian. They really help me to get in the right mindset every morning.
Even if you don't have to travel from one part of the country to the other every morning [being dramatic] you can still listen if you have free time or if you like to work out you can listen to them as well.
I've listed them all below and I encourage you to check them out.
RAANetwork // I love how they tackle the core concerns of African Americans by merging faith with culture.
Revive Our Hearts // This is a new one I've just started listening too in the past week but it's nice to hear great Biblical teaching from such a wise woman.
Tony Evans // Two words: Love him! I wish I lived in Dallas so that I could join his church!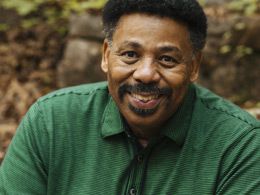 The Gathering Oasis // I found this station a couple years ago through following Heather Lindsey's ministry. Heather is a phenomenal preacher and so is her husband. They are very transparent and down to Earth which makes each of their sermons relateable.
Voddie Baucham // Voddie! His words pierce like needles but he preaches such truth and pushes me to Think Biblically about everything.
Acts 29 Network // This is a new one that I just started listening to recently. Love the variety of preaching styles that this network brings through the many pastors a part of this network. This station has introduced me to several pastors that I might not have otherwise found.
The Village Church // Matt Chandler is pretty legit and hilarious.
I really enjoyed his Beautiful Design sermon.
Truth Endures // This station has a ton of power packed messages. It's like a collection of the best sermons every preached.
Epiphany Bible Fellowship // Two words: Eric Mason. When thug life meets Jesus. Joking...slightly. But seriously don't sleep on this guy. I know where I'm headed if I'm in Philly on a sunday.
To listen to these podcasts a

ll you need to do is open the purple podcast icon on your iPhone and search the names you see below. If you don't have an iPhone you can download the episodes of your choosing to your iTunes library and sync them to your phone from there. Happy Listening!
I'm always looking for more to add.
What are some of your favorite podcasts?